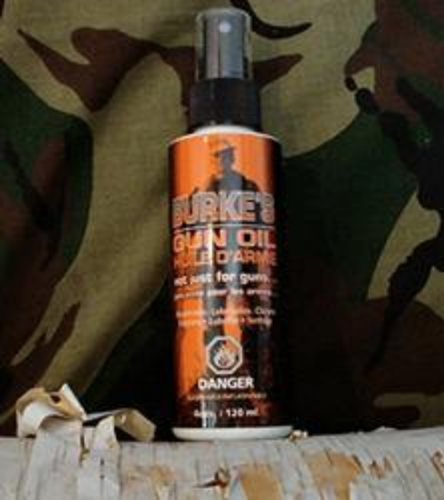 Burke's Gun Oil Spray - Multipurpose Oil
Burke's Gun Oil Spray - Multipurpose Oil
description
Burke's Gun Oil™ is a multi purpose, premium quality gun oil that acts as a cleaner, lubricant and long term storage rust inhibitor. Wherever metal meets metal, this oil can help lubricate and preserve more than just guns — so old hinges don't need to squeak any longer!  It is non-toxic and made in Canada.  
Not only does it work well in hot climates repelling dirt & grit, it is also a superb cold weather oil that even works at the North Pole!
The oil penetrates deep into metal surfaces and leaves a protective barrier without attracting dirt or dust particles like other lubricants.
Uses include (please refer to manufacturer's instructions):
Locks
Chains
Garden Tools
Satellite Rotor Arms
Chain Saws
Battery Terminals
Ignition Systems

Medievalist Armor
Hinges
Hitches
Hand tools
Power Tools
Model Airplane Engines
Unfinished Wood

Shipping is $19.95 + GST/HST flat rate Canada Post box which ships anywhere in Canada. This box can fit up to 6 - 4oz bottles, or 2 - 8oz bottles. We have provided those two options accordingly.